08th Jun, 2020
Whole School Project Week 6 – Sports Week
Normally this week we would be outside at Inchmarlo enjoying the fantastic facilities we have. There would be sports days, forest school and many sporting events all taking place. This week we are going to hold our virtual sports week to replace some of these activities.
Below you will find the Sports Activity Grid for the week. All you have to do is complete as many as you can and enjoy yourself doing it!  All the activities can be done in your house or garden and can be made as difficult or as easy as you want ! You can even adapt them to suit you as the whole point is just to have fun.
To help you there are a set of picture instructions and the P7 House Captains have also made some short instructional videos which will go online as the week goes on. We hope you have fun with our challenges and enjoy taking part with those in your household.
Please send us pics and short clips of how you are getting on to preponlinework@gmail.com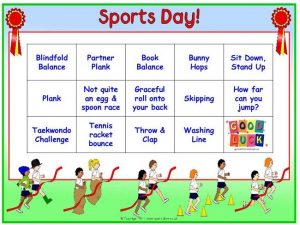 Please click on the links below to take you to further ideas and demonstration videos